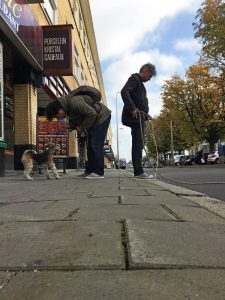 Topp & Dubio in a street
ongoing project
Series of random uninspired moments in the daily practice of Topp & Dubio.
All pictures are taken in the hometown of the artists.
Topp & Dubio study and scrutinise reality from a conceptual starting point, often arising from sudden moments of curiosity and a desire to explore parallel worlds. Their projects flawlessly deal with fact and fiction, the concept of art and daily life, the personal and the public, observation and participation, authenticity, history and documentation, the romance of imagination and the absurdity of reality.