Frans van Lent announces small events that take place at a certain location and at a certain moment in the future. Everyone is invited to be at the exact spot at the exact time to contribute to the scene with his/her own simultaneous activity (or inactivity).
A Scene #22
Frans van Lent:
Saturday 23 May 2020 at 2:20 PM (CEST), Dordrecht, the Netherlands
I stood in the middle of the food market. I looked around until I recognised someone, and while I was looking at this person I grabbed my phone and called him to ask how things are.
After a while, I made clear that I was within visual distance, stopped the conversation and raised my arm to say goodbye. I left the market.

Martine Viale:
Saturday 23 May 2020 at 2:20 PM (CEST), Perpignan, France.
I walked in one direction and asked my husband to take another and to call my mobile phone.
I didn't answer the phone; he called me ten times. While walking from a definite site to another I recorded the sound of the phone ringing as well as the ambient sounds.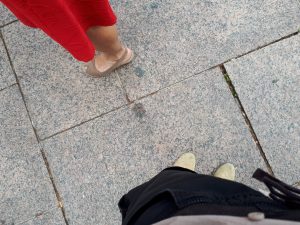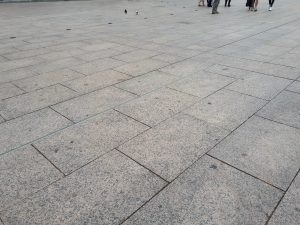 A Scene #20
Frans van Lent:
Tuesday, February 18, 2020 at 2:20 PM (CET), in the sky above the Atlantic.
I was standing in the aisle of a flying Boeing 767-300 between the Netherlands and Iceland. With my eyes closed, my arms beside my body, I was for 15 minutes contemplating the enormity of the ocean below.
Trudy Kunkeler:
Tuesday, February 18, 2020 at 2:20 PM (CET),Tibidabo, Barcelona, Spain.
Tibi dabo: 'This I give you', the devil would have said to Jesus, 'if you give me your soul'.
I am standing with my back to the church.
The Inevitable sirens at a distance, dogs barking, the sound of the wind.
Only non-western languages pass by, one language I cannot place at all.
Reykjavik, I think for a moment. I was about 10 years old when I heard that sound from my uncle who was also a priest and my godfather. He might be sent to a parish in Reykjavik. I looked up the city in the atlas. I myself never got further than the Reykjavik airport, on my way to New York.
Difficult to isolate yourself from the environment. I wonder if anyone is wondering what I'm doing there.
If so, I don't understand.
2:35 PM: I turn around and see a family of Sikhs.
Martine Viale
Trudy Kunkeler
Frans van Lent