A report by Ieke Trinks
K.H. Renlunds Museum in Kokkola, Finland
November 11, 2016
With: Niina Perander, Laura Särs, Kuriho Kaku, Emma Wikberg, Tove Mattsson and ieke Trinks
Students in the performance art workshop at the Nordic Art School and I agreed to visit the Museum.
It's a small building in the center of the town showing temporary exhibitions on the ground floor and a permanent collection with paintings and historical artifacts on the first floor. We do a short version of TPS, which takes 2 hours. Before the visit I show the students the TheParallelShow blog and give examples of earlier activities undertaken by several participants in the official TPS editions. I share the one rule to not leave visible marks behind. The first 45 minutes we visit the exhibitions and meet in the children's' room and sit around a large table to discuss in 30 minutes time our ideas. I decide not to implement ideas of my own to keep time for the students and instead perform their ideas. The next 45 minutes we execute the quickly made program with all the contributed ideas. While we do this we are the only visitors in the museum.
The reports: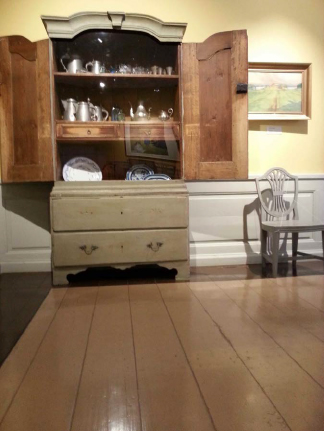 Looking at art from an indirect position
Niina Perander:
At the museum I decided to live inside a painting for a moment.
I chose one of the paintings to insert myself.
Of a three women and a little girl sitting on a picnic at the seaside.
I joined them.
The beach was a bit gravelly, not just smooth sand. So I used my jacket as a blanket. I removed my shoes because I love feeling the sand on my toes.
It was warm so I took some of my outer clothes of.
Sun was bright so I had to shade my eyes.
I relaxed on the ground. First sitting, then laying on my side.
I could feel the wind on my hair. Sun on my skin. There was no hurry to do anything so I just lied there. I drew on the sand with my finger. I felt drowsy and calm.
Sometimes other people walked by me. Some talked to me.
Then I returned. Put on my shoes and clothes back and rose from the museum floor. And left the room.
Kuriho Kaku:
I decided to do Hide and Seek with group in a limited room in Museum.
1. a small room which has a table and chairs as a playing room for children.
2. an open space at 1st floor without any partition
3. tiny room
4. whole second floor
People's action: Behind curtain, behind someone, pretend pole, behind doors, each person try to find a way to hide in 10 second.
As a seeker, it was interesting to see the action how people try to find a place to hide in a specific room which has almost no place to hide. When I have to hide in an open space, I really wanted to change myself to same color with some furniture.
Museum which is normally prohibited to play game, hide and seek which is easy and known for everyone, limited room which has no place to hide, when these interesting subjects are mixed, people's motivation goes up and make nice activity.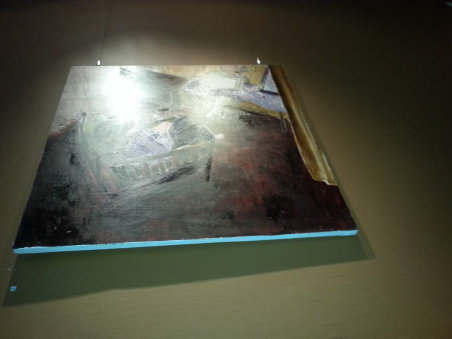 Looking at the painting from lying position
Tove Mattsson:
We visited the museum on Friday the 11 of November. We spent a total time of around 2 hours in the museum. The first hour we just walked around in the different rooms and looked at the paintings. We did also think of something that could be done in the museum, something that was not usually done in such a space but that did not leave a trace. After the first hour we met at a children's table on the second floor. There everyone explained their ideas.
My idea was that I was to watch the paintings from a different angel. I thought that the motif might change depending on how I watched it, or if that did not happen, then perhaps what I felt about the painting might change depending on light and so on. So during the next hour at the museum I tried to watch the paintings from the floor. I lay down on the floor and viewed the art from below, which gave a different perspective than standing and watching them like we usually do. The long time spent in the museum also made the museum space feel much more welcome and as if I or we as a group owned the space, compared what you usually feel about it. You get a familiarity with it that not occurs while just walking in the rooms.
The whole exercise was pretty easy to do because that there were no other visitors. If there had been more people that I were not familiar with then laying down on the floor would have felt weird and inappropriate.
In conclusion it was a fun experiment and maybe I will try it again in a different museum.
Laura Särs:
There was this uncertain excitement when we arrived to the museum. I walked around and made some notes about the impressions I got from the place and some ideas about what I would do. We gathered around a table, where kids are able to stay and draw during their visits, and discussed what we might do. Kuriho had an idea to play hide and seek, witch I thought was lame at first. The others shared their ideas, but I mainly sat in my own thoughts and wondered how I'd do it.
We started off with Kurihos idea and she started to search, we began in the room with a table, a dollhouse and some chairs. Everyone was giggling since there wasn't really any place to hide. I hid behind a chair and had my hands in front of my face. I got surprised over how much I enjoyed hiding in that moment. We did two more rooms, one of which was no bigger than a toilet and didn't contain anything. That was my favorite place, I hid behind Tove who was counting to 10.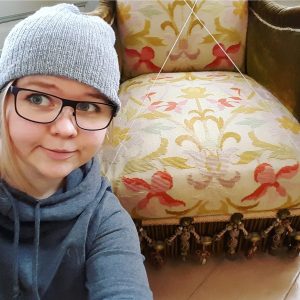 After the hide and seek we decided to spread out and do our own thing. I wanted to sit beside some of the chairs that you weren't allowed to sit on. I thought it was so sad that they had lost their purpose in life and tried to "make them feel appreciated again". I was trying to get into the same mindset as when you're trying to show people how you appreciate them. So I tried to find details, that are usually unseen and ended up taking a selfie with one of them.
Tove was in the same room, experiencing paintings from the floor. After a while I tried laying down beside her and it surprised me how much the artworks changed. And it felt kind of ridiculous to lie on the floor in a museum. When I got up I crawled around a bit on all fours, just to see what it felt like.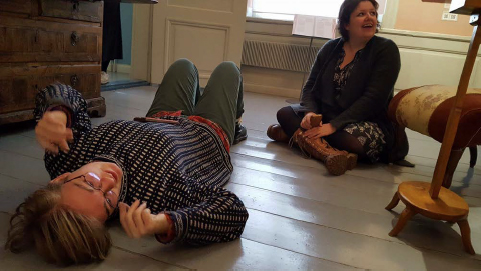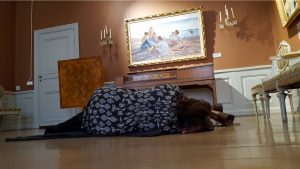 Nina was on the beach and highly enjoyed it. It was a weird feeling watching her, as if you intruded but somehow she wasn't just pretending to be on the beach, she was actually there.
10 to 2 o'clock I brought down dominos to the lower room that I had chosen. There was a corner that was just a waste of space so I sat down there and started mixing the bricks. It felt weirdly normal to do that there, the place had already started to feel more comfortable. Ieke joined me after a few minutes and tree more people dropped in after another minute or so. We played and chatted a bit. Mostly about the rules of the game, witch none of us were sure about.
When we left, the museum was no longer the white walled house where you look at art. It was our place.