Performances Invisibles (Invisible Performances) is the third solo exhibition by conceptual artist Steve Giasson.
It is realised as part of the 'Micro Interventions in public space'-section from the
DARE-DARE Center of Dissemination of Multidisciplinary Art, in Montreal, Canada.
The project consists of 130 performances and is staggered over a full year:
from July 7, 2015 to July 7 2016.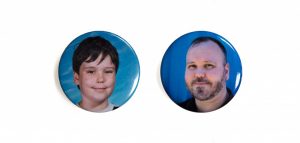 Steve Giasson. Performance invisible No. 127 (To Age).
Photo : Daniel Roy. 24 juin 2016.
Performances Invisibles first took the form of performative statements, ideas of works, recorded in writing.  Although they can stand on their own, they call and describe many minimal or enigmatic gestures. Often the statements are taken from everyday life or from the history of art. They can be placed in public or in private space.
The statements are published twice a week on performancesinvisibles.dare-dare.org (French, English and Spanish), and they are shared on the DARE-DARE's Facebook page.
Steve Giasson activates the statements. The documents surrounding these activations are available on the website. Everybody is welcome to activate these performative statements at any time (also after July 7) and without prior authorization. If you do so, you are kindly requested to send any form of documentation. It will be added to the corresponding statements.
Steve Giasson. Performance No. 128 (To sweat).